Baby Products
ULTIMATE BUNDLE: Ingenuity Smart & Simple Playpen + ConvertME Swing2Seat + Activity Jumper + Baby Base!!!
In a nutshell
ULTIMATE INGENUITY AND BABY EINSTEIN BUNDLE!!
Bundle Includes 
- Ingenuity Smart & Simple Playard Ridgedale
- Ingenuity ConvertME Swing2Seat Ridgedale
- Baby Einstein Activity Jumper
- Ingenuity Baby Base 2 in 1 
Ingenuity Smart and Simple Washable Playpen - Ridgedale
From playtime to naptime, the Smart and Simple Playard is a safe space for everything your baby needs.
Rest in the DreamCentre, relax in the playard, and get cleaned up on the changing table.
The DreamCentre is the perfect place to snooze thanks to soft fabrics and cool, breathable mesh.
During play time, the transparent mesh panels make sure your baby stays in sight.
The elevated changing table makes diaper changes more comfortable for both you and baby, and it flips easily out of the way when not in use.
Designed to keep everything you need in one place, there are side storage pockets to keep necessities within reach.
This playard easily folds when it's time to pack up.
You can quickly collapse and go without removing the bassinet.
Wheels help move the Playard from room to room, and there's a travel bag included for longer transports.
When you need some hands-free moments, you can rely on the Smart and Simple Playard to hold your baby safe and close.
Features: 
- Keeps baby safe from playtime to naptime
- Portable playard with bassinet and changing table
- Bring wherever you go - foldable and on wheels!
- Side storage pockets keep necessities close
- 3 pieces are easy to wash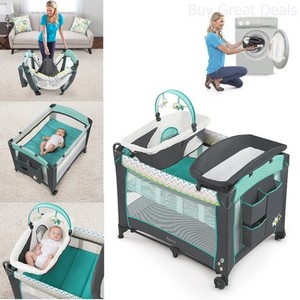 Ingenuity Candler ConvertME Swing2Seat Ridgedale

Entertain baby with 5 swing speeds, 8 melodies and 3 calming nature sounds!!
Designed with parenthood in mind.™ Ingenuity's™ ConvertMe Swing-2-Seat™ in Candler™ is two amazing baby seats in one!
This swing converts effortlessly to a seat with soothing vibrations!!
A pivoting leaf-like toy bar offers 1 plush toy. 
The tasteful Candler fashion is rich with detail and perfect for a girl or boy. 
You'll save money on batteries thanks to HybriDrive™ technology, because batteries last up to 3 times longer than traditional swings. 
The Slimfold™ design allows the swing to fold flat for easy storage and transport. 
Swing timer has 3 settings to give mom and dad a few hands-free moments: 30 ,45 and 60 minutes. 
WhisperQuiet™ technology allows baby to swing in silence. 5-point harness and non-slip feet for added safety.
This portable, convertible swing features neutral, contemporary fashions and deluxe features that make life easier for mom and more relaxing for baby!
Toy Attachments
Music, Sound & Lights
Easy to Wash
Battery-Saving
Easy Fold/Storage
Quiet Motion
Auto Shut-Off Timer
Slip-Resistant
 Baby Einstein Activity Jumper
Great minds start little!
JUMP, HAVE FUN, 360 MULTI-SENSORY EXPERIENCE !!
AWARD WINNING JUMPER!!
Little ones will jump with delight as they explore the neighborhood with their favorite Baby Einstein™ friends. 
The Neighborhood Friends Activity Jumper™ has 12+ activities that surround babies and encourage 360 degrees of fun multi-sensory experiences. 
The electronic piano has lights, volume control, and three modes: classical melodies, piano key tones, and language discovery in English, French, and Spanish.
Other fun activities include a spinning frog bead chaser, spinning rattle drum with beads and a mirror, and more.
It also includes additional link loops to add some of baby's favorite toys. 
The Secure Support Seat provides extra support for little ones, and with five height settings the jumper grows with baby. 
This Award-Winning jumper was honored by American Baby Magazine's Top Picks 2015, with over 60,000 parents voting on their favorite baby gear items. 
As seen on ABC's Good Morning America in 2015.
Multiple Languages
Music, Sound & Lights
360 Degree Seat Rotation
Toy Attachments
Volume Control
Multiple Modes
Rattle beads
Ingenuity Baby Base 2 in 1 
A MUST HAVE for EVERY BABY going through WEANING!
Use as a floor seat, or strap to your dining chair to become a highchair!
Perfect and easy to clean up for Baby Led Weaning!
Designed with parenthood in mind. 
Sitting up means baby can engage more in playtime, join you at the dinner table, and take in a whole new view of the world. 
Baby Base 2-in-1™ does just that! It provides the support that allows babies to sit up. 
With 2 modes of use, Baby Base 2-in-1 is designed for use on the floor, or it can attach safely to a dining chair for use as a booster seat - making it perfect for playtime, dinner or travel. 
There is a 3-point harness for safety. Baby Base 2-in-1 comes with its own tray that conveniently stores beneath the seat for easy storage and transport, so you won't lose it or have separate pieces to keep up with. 
The foam insert provides extra cushioning for baby and can be removed so the seat will remain comfortable as baby gets bigger. 
Lightweight Design
Dishwasher Safe
Easy to Clean
Easy Setup
*Images is for illustration purpose only
*Enjoy a Free $5 Mummys Market Online Voucher for every $30 Spent on Preorder!
Pre-Order is over - Buy it at Mummys Market Fair Apr
Discount

53%
You save

S$557.00
Details
*Videos is for illustration purpose only
The fine print
· Valid for collection ONLY between 5 - 7 July 2019 (5 - 7 July: 11am-9pm, 21 Apr: 11am-6pm).
· To be collected from Central Preorder Collection Point at Mummys Market Fair, Singapore Expo Hall 5 (please refer to Mummys Market Shopping Guide for any updates before commencement of event).
· Mummys Market reserves the right to revise, suspend or terminate any deal without prior notice. In the event that a purchase has already been made, Mummys Market shall provide a full refund to the customer of the affected deal.
· Should the item not be collected between 19 - 21 April 2019 at the Mummys Market Fair, the full retail price will be charged for collections.
· STRICTLY No Refunds, Exchanges or Cancellations allowed.
· Unlimited Voucher per person.
· Voucher printout must be presented upon redemption.
· Not valid with other discounts and promotions unless stated otherwise.
· In the event of any occurrence not foreseen under this Fine Print section, the decision of Mummys Market shall be final.
MumMum Online $5 Voucher Code
· *Receive a FREE $5 MumMum Online Voucher Code for every $30 Spent on Preorder.
· $5 MumMum Online Voucher Code is NOT stackable and EACH $5 Voucher Code can ONLY be used for 1 check out transaction.
Example:
Customer spends $120 on Preorder.
Number of $5 Voucher Code entitled: 4 (1 x $5 voucher code per $30 spent on preorder, therefore, $120 / $30 = 4)
With 4 x $5 voucher codes, Customer visits https://www.mummum.com.sg/ and wants to make a purchase. Upon check out:
No. of $5 Voucher Code usable: 1 (Customer cannot use all 4 voucher codes for 1 check out transaction, ONLY 1 voucher code can be used for each check out transaction)
Voucher code is only applicable to MumMum Online @ https://www.mummum.com.sg/ and will be sent via email to customer after the close of preorder.
General info
For general enquiries, please email support@mummysmarket.com.sg
There may be a slight difference in the tone of colours depending on the resolution of your monitor.
See the rules that apply to all deals
Redemption details
Step 1)>>> 
Purchase your item using the 'Grab Now' button on this page.
Step 2) >>>
By purchasing your item and providing your name, email address, phone number and date of redemption at the payment page, you have already ordered your item(s).
*Items must be collected at the Baby Market Fair. Should the items not be collected during 12 – 14 October 2018 at the Baby Market Fair, the full retail price will be charged. No Refund, Exchanges and Cancellations are allowed.
Step 3) >>>
Print out your voucher via your email and redeem your item from the indicated booth No. at Baby Market Fair, 12 – 14 October 2018, Singapore Expo Hall 5. (Baby Market Floorplan will be sent to you nearer to the event date)