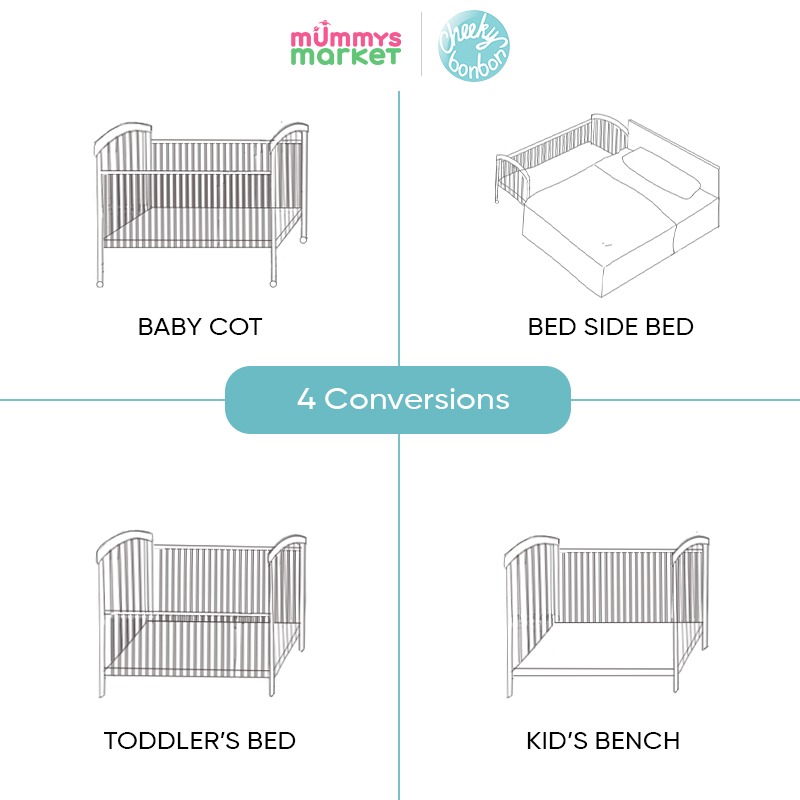 Our award-winning baby cots assure you of the highest quality and design. Over 10 years of experience specialising in solid wood furniture stands us in good stead to ensure the right support level and after-sales service.
Meets British and European safety compliance on standards & regulations. Designed by structural engineers.
Strong non-toxic teething rails that do not chip easily so your child won't be harmed.
3 adjustable height options for easy access to baby.
Quality wheels with lock option to ensure cot does not move around.
Formaldehyde-free solid hardwood, no off-gassing that will harm your child in the long run.
Let the wood's natural anti-bacterial properties protect your child. Finished with non-toxic baby-safe paint.
Dropside: Smooth and safe gate mechanism. No force needed, simple and easy to use.
Eco-friendly manufacturing standards that helps to reduce our collective carbon footprint.
Product Specifications
Dimensions (HxLxW): 100 x 120 x 60cm
Weight: 11kg
3 Years Structural Warranty
Self Assembly
Self Collection at Singapore Expo, 30 June - 3 July 2022.
The product should be brought to Picket and Rail service center @ Tagore for any servicing work under warranty.
Why Shop in Picket & Rail?
Because we care. We truly believe you deserve quality furniture for every bit of money well-spent. With decades of experience in retailing, exporting, manufacturing and designing furniture, we've learned and heard plenty. Time after time, customers have come up to tell us how they're still using our beds, dining tables, or chairs from decades ago. We believe that quality is the best advertisement. Time changes. But we strive to make sure our quality doesn't.
Because we are focused on the furniture business. We specialize in furniture and home furnishings. We do not retail IT, electrical and electronic goods. We are not distracted.
Because since the beginning we have provided a wide range of quality furniture for many different customers' needs, at a wide variety of prices. Quality can be expressed equally well in a sturdy, wooden stool and an opulent full-leather sofa. No matter the product, we make sure that the best quality of furniture reaches our customers, and perhaps someday the children of our customers. We do not believe in low-price, low-quality products.
Because to us furniture is more than physical objects. At Picket&Rail we believe that items of furniture should not be mere objects - but that each piece has a cultural, lifestyle or historical value as well. We aim to deliver furniture that speaks, each line and texture telling a story. Furniture not only to live in, but to live through. From the sturdiness of Americana to the personalisation of Made-to-Measure furniture, we bring style to your homes