Clothing
Attipas Baby Walking Shoes from Korea
Discount

70%
You save

S$22.90
In a nutshell
About this deal
Attipas was launched in 2011 after 7 years of cooperative research & development conducted in conjunction with the Cognitive Behavioral Development Center at the Seoul University.  Attipas was developed based on biomechanical knowledge of brain development . By allowing toddlers to feel the sole of shoes and move toes freely, Attipas helps to correct toddler's walking by evenly distributing foot pressure.
7 years to design a shoe! So much effort... Mummys, they also share this picture to show you the results of their 7 years of design, so impressive leh! They really thought of our hot weather la (breathability), long days out so might have sore feet (convenience, lightweight & flexibility and big toe box), but most importantly cannot forget that material used must be safe cuz direct contact with the skin mah! (safety)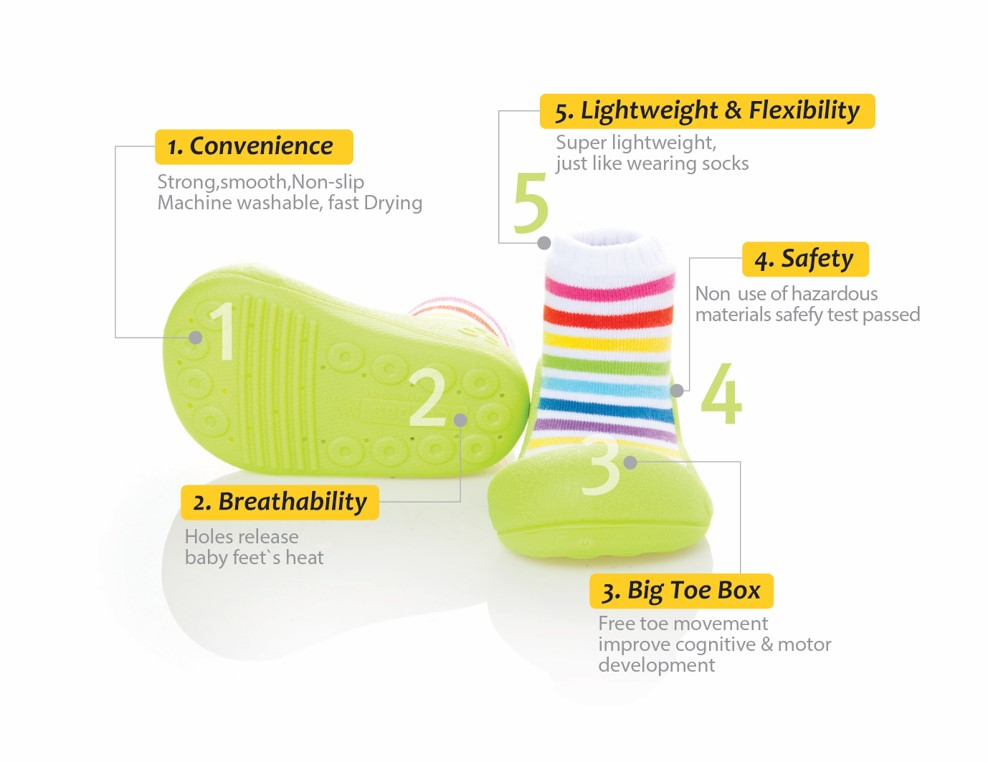 Sizing and colour can pick at the booth!
*Image is for Illustration purpose only
*Enjoy a Free $5 MumMum Online Voucher for every $30 Spent on Preorder!
Details
About Attipas
Established in 2004, Wildcat Co., LTD is a manufacturer functional toddler shoes for children from 0 to 5 years old. Growing daily, Wildcat Co., LTD now have two key products including Attipas functional toddler shoes and Acti-Fit customizing functional in-soles which developed in conjunction with partners.
Their goal is to provide safe, comfortable shoes for babies worldwide, and make Attipas a globally recognised brand in the baby and toddler shoes sector
The fine print
· Valid for collection ONLY between 9 - 11 April 2020 (9 - 10 Apr: 11am-9pm, 11 Apr: 11am-6pm).
· To be collected from Booth B13 at Mummys Market Fair, Singapore Expo Hall 5 (please refer to Mummys Market Shopping Guide for any updates before commencement of event).
· Mummys Market reserves the right to revise, suspend or terminate any deal without prior notice. In the event that a purchase has already been made, Mummys Market shall provide a full refund to the customer of the affected deal.
· Should the item not be collected between 9 - 11 April 2020 at the Mummys Market Fair, the full retail price will be charged for collections.
· STRICTLY No Refunds, Exchanges or Cancellations allowed.
· Unlimited Voucher per person.
· Voucher printout must be presented upon redemption.
· Not valid with other discounts and promotions unless stated otherwise.
· In the event of any occurrence not foreseen under this Fine Print section, the decision of Mummys Market shall be final.
General info
For general enquiries, please email support@mummysmarket.com.sg
There may be a slight difference in the tone of colours depending on the resolution of your monitor.
See the rules that apply to all deals
Redemption details
Step 1)>>> 
Purchase your item using the 'Grab Now' button on this page.
Step 2) >>>
By purchasing your item and providing your name, email address, phone number and date of redemption at the payment page, you have already ordered your item(s).
*Items must be collected at the Mummys Market Fair. Should the items not be collected during 11 – 13 October 2019 at the Mummys Market Fair, the full retail price will be charged. No Refund, Exchanges and Cancellations are allowed.
Step 3) >>>
Print out your voucher via your email and redeem your item from the indicated booth No. at Mummys Market Fair, 11 – 13 October 2019, Singapore Expo Hall 5. (Mummys Market Floorplan will be sent to you nearer to the event date)