For Mummys
BeBeLock Ice Tok Tok Food Tray Bundle of 3 + FREE 1 Tray!!
In a nutshell
These Trays Are Made in Korea!!
Specially Made to store small portion of food in Cubes!!
Now you can pop out the food to your preferred portion!
These awesome Made in Korea trays come with lids to keep small portions of food in cubes so that you can pop out whatever you need, one at a time!

Yes! They are specially designed to let you pop them out one cube at a time!
Great for storing baby purees, home made butters & seasonings and endless possibilities! 

They can be stacked neatly in the freezer which helps on organising and saving space!
Colors Available: Orange, Blue, Green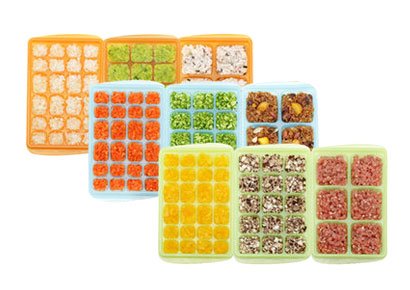 *images is for illustration purpose only
*Enjoy a Free $5 Mummys Market Online Voucher for every $30 Spent on Preorder!
Pre-Order is over - Buy it at Baby Market Fair Oct!
Discount

33%
You save

S$14.90
Details
Bundle Comes With:
1 x Small: 1tsp (5g) & 1.5tsp (7.5g)

1 x Medium: 1tbsp (15g)

1 x Large: 1/4 cup (50g)

1 X Free Random Size, Random Colour (

Random Designs Given — STRICTLY NO CHANGING DESIGNS​)
 
Each set comes with 1 tray and 1 lid.
MADE IN KOREA
*** DO NOT BOIL or STEAM STERILISE! ***
*** UV Steriliser --> OK!
The fine print
·        Valid for collection ONLY between 13 - 15 April 2018 (13 - 14 Apr: 11am-9pm, 15 Apr: 11am-6pm).
·        To be collected from Booth A03 at Baby Market Fair, Singapore Expo Hall 5 (please refer to Baby Market Shopping Guide for any updates before commencement of event).
·        Mummys Market reserves the right to revise, suspend or terminate any deal without prior notice. In the event that a purchase has already been made, Mummys Market shall provide a full refund to the customer of the affected deal.
·        Should the item not be collected between 13 - 15 April 2018 at the Baby Market Fair, the full retail price will be charged for collections.
·        STRICTLY No Refunds, Exchanges or Cancellations allowed.
·        Unlimited Voucher per person.
·        Voucher printout must be presented upon redemption.
·        Not valid with other discounts and promotions unless stated otherwise.
·        In the event of any occurrence not foreseen under this Fine Print section, the decision of Mummys Market shall be final.
Mummys Market Online $5 Voucher Code
·        *Receive a FREE $5 Mummys Market Online Voucher Code for every $30 Spent on Preorder.
·        $5 Mummys Market Online Voucher Code is NOT stackable and EACH $5 Voucher Code can ONLY be used for 1 check out transaction.
Customer spends $120 on Preorder.
Number of $5 Voucher Code entitled: 4 (1 x $5 voucher code per $30 spent on preorder, therefore, $120  / $30 = 4)
With 4 x $5 voucher codes, Customer visits www.mummysmarket.com and wants to make a purchase. Upon check out:
No. of $5 Voucher Code usable: 1 (Customer cannot use all 4 voucher codes for 1 check out transaction, ONLY 1 voucher code can be used for each check out transaction)
Voucher code is only applicable to Mummys Market Online @ www.mummysmarket.com and will be sent via email to customer after the close of preorder.
General info
-For general enquiries, please email support@mummysmarket.com.sg
-There may be a slight difference in the tone of colours depending on the resolution of your monitor.
-See the rules that apply to all deals
Redemption details
Purchase your item using the 'Grab Now' button on this page.
By purchasing your item and providing your name, email address, phone number and date of redemption at the payment page, you have already ordered your item(s).
*Items must be collected at the Baby Market Fair. Should the items not be collected during 13 – 15 April 2018 at the Baby Market Fair, the full retail price will be charged. No Refund, Exchanges and Cancellations are allowed.
Print out your voucher via your email and redeem your item from the indicated booth No. at Baby Market Fair, 13 – 15 April 2018, Singapore Expo Hall 5. (Baby Market Floorplan will be sent to you nearer to the event date)